Intuit Stock: A Strategy Shift and High Momentum Exposure (NASDAQ: INTU)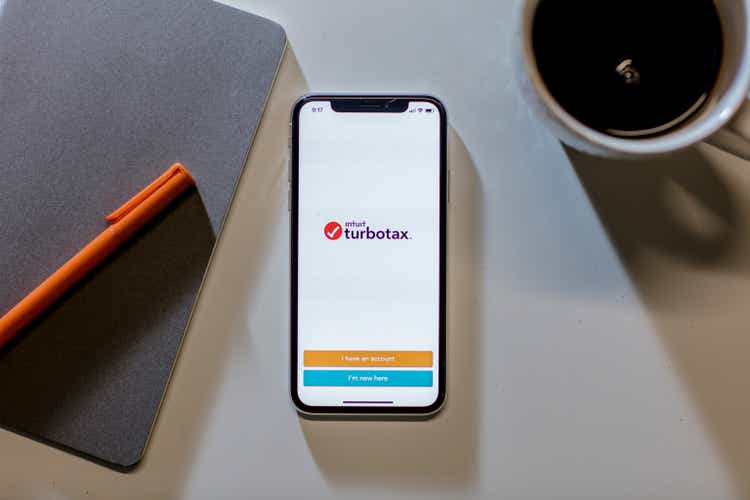 Intuit (INTU) is one of the strongest large-cap software companies with a unique ecosystem of tax, accounting and personal finance offerings. With a decade of history, the company's management has repeatedly proven its ability to adapt, grow the business organically and deliver exceptional returns to shareholders.
However, times are changing and with that management is also changing. While a strong track record is a good thing to have when buying a stock, it's far from a guarantee of future returns.
With that in mind, in June of last year, I took a deep dive into Intuit and showed why it's a compelling investment opportunity. Over the next two months, the company significantly outperformed the market, returning around 37% at a time when the broader market added only 11%.
Although I always look for long-term investment opportunities and do my best to avoid short-term noise, sometimes when conditions change I also adapt my perspective. That's why, in November last year, I highlighted some red flags for Intuit's valuation and strategy and changed my rating on the company to Hold. Since then, returns have been the exact opposite of the chart above.
While a few months may not matter to long-term holders and the decline in recent months is largely due to broad marker strengths, I still find it hard to be positive about the company in light of recent developments.
To put it succinctly, there are currently two major red flags for Intuit that I believe put short to mid-term performance at significant risk. The first relates solely to the business and the approach taken by the new CEO, while the other is more closely related to Intuit's overall market risk and exposure.
A sudden change of direction
The graph below gives a very good overview of the new strategy undertaken by the new CEO of Intuit.
For more than a decade, Intuit has grown its business primarily through organic growth with occasional small add-on acquisitions. However, that changed with the recent big acquisition of Credit Karma, which was then quickly followed by an even bigger one from Mailchimp.
The last time Intuit engaged in an acquisition over $1 billion was in 2007, when the company acquired Digital Insight for approximately $1.35 billion. Only to end up selling the company for less a few years later.
Thoma Bravo and Intuit Inc. (Nasdaq: INTU) today announced that Thoma Bravo has entered into a definitive agreement with Intuit to acquire its Financial Services Division, or IFS.

The cash transaction is valued at approximately $1.025 billion and is subject to regulatory review and other customary closing conditions. The transaction is expected to close in the coming months.

Source: businesswire.com
Unlike the big deal for Digital Insight, in 1993 Intuit acquired Chipsoft, the owner of TurboTax, for just $225 million. Although it was a relatively large transaction at the time, it turned out to be very successful. Chipsoft made about $70 million in sales, which valued the company at about 3 times last year's sales. The Credit Karma deal for comparison was done at around 7x sales.
Again on its own, this doesn't mean much since large strategic transactions are needed to solidify the company's existing competitive advantages and accelerate growth in strategic areas. However, this clearly illustrates the risks of large transactions and Intuit's painful experience.
Plus, as we all know, just months after the Credit Karma deal, Intuit announced an even bigger deal: the acquisition of Mailchimp for $12 billion. This move cemented the idea that the company is undertaking a sea change in its decade-long strategy.
The full value of the Mailchimp deal isn't fully reflected in the chart above, as $6.3 billion was paid for with newly issued Intuit stock.
The fair value of the purchase consideration was $12.0 billion, which included $5.7 billion in cash and 10.1 million shares of Intuit common stock stocks worth about $6.3 billion. The fair value of the equity consideration is based on the October 29, 2021 closing price of Intuit common shares of $625.99.

Source: Intuit 10-Q SEC filing
On the positive side, the transaction was completed at a time when INTU shares were at an all-time high, which allowed the company to dilute its existing shareholders less. This, however, brings us to another important point – shareholder dilution.
Admittedly, 10 million new Intuit shares doesn't sound like much considering there were 273 million shares outstanding at the end of fiscal 2021. The move, however, represents another course shift from Intuit. Over the years, management has consistently reduced the total number of shares, while experiencing an exceptionally high rate of revenue growth. Under the new CEO, however, the company is embarking on further shareholder dilution to fund its future growth.
The huge opportunity for growth in new verticals and the synergies achieved certainly did not arise overnight, which begs the question – why is Intuit suddenly promoting its M&A activity so much to a when stock market valuations are still high?
Indeed, Mailchimp brings a significant addition to Intuit's already high Total Addressable Market (TAM) and there also appears to be a significant cross-selling opportunity with Intuit's existing services.
With pre-acquisition sales of around $800 million, the deal is valued at around 15 times sales, putting enormous pressure on the company to exploit these cross-selling opportunities.
If we look at the breakdown of intangibles acquired under the deal, the Mailchimp brand is only $280 million, with the vast majority being customer lists.
This shows that Intuit management doesn't seem to believe that the Mailchimp brand alone is worth much in attracting and retaining customers. It also shows that it is the customer lists that are valuable to the Inuit here. My personal view is that this is not a healthy allocation of intangibles for a transaction that is already pricing in years of double-digit revenue growth.
Last but not least, current management favors more generous stock-based compensation, which now approaches 40% of the company's operating cash flow.
This is, in my opinion, another sign that things are changing rapidly at Intuit and that the company's strategy is starting to resemble that of Salesforce (CRM), which I have been warning against for some time now.
High market risk
In addition to the business risk highlighted above, Intuit has been more heavily exposed to exogenous factors in recent times. The company's stock price now exhibits a very high relationship with the momentum factor, as measured by an index taking a long position in the iShares Edge MSCI USA Momentum Factor (MTUM) ETF and a short position in the iShares Edge MSCI USA Value Factor (VLUE) ETF. The graph below shows the so-called beta between this index and INTU.
*measured by the six-month daily covariance between the two variables divided by the variance of the index
This underscores the significantly higher market risk that Intuit shareholders are now exposed to. As I said earlier, this is not a reason in itself to avoid the company by any means, but rather indicates the higher return required in order to compensate for this risk.
On a cross-sectional basis, Intuit also trades at high multiples, but this premium valuation is supported by the company's strong revenue growth (see below).
I have already pointed out that this relationship is not sustainable in the long term and that sooner or later many companies in the peer group above will have to prove that they can also generate high margins and a sustainable return on capital. However, at the moment, the market seems to favor revenue growth over profitability and, in this regard, Intuit's valuation seems justified.
However, as I pointed out in my previous analysis, some of this revenue growth is a direct result of recent acquisitions, which could create an incentive for riskier behavior and more M&A deals. acquisitions, just to keep that multiple high.
That said, we must also recognize the strength of Intuit's legacy business, which offers relatively high margins and thus provides some margin of safety for shareholders.
Conclusion
Intuit has created and grown some of the strongest consumer and small business-focused brands in software. Historically, the company has created significant value for its shareholders through organic growth and small add-on acquisitions. This strategy, however, appears to have changed dramatically under the new CEO, who is taking much higher risks in pursuit of a number of very important deals. Not only is the commercial integration of such transactions much more difficult, but the very high price paid is already the price of years of strong growth. Additionally, Intuit appears to be paying a very high premium for its cross-selling opportunities with less emphasis on brand strength and customer retention. Last but not least, Intuit's premium valuation appears to be more dependent on dynamic transactions and revenue growth figures, which creates additional risk for shareholders.